Granite is a timeless building material that will fit perfectly into an interior design without losing its charm no matter what style you choose. Granite tiles come in all possible shades from beiges to reds and greens, making them suitable for any room in the house. When combined with other materials such as wood, marble or glass, it gives an incomparable sense of luxury and elegance. This does not mean that the material is only decorative, as you can use granite tiles for floors in high-traffic areas. Granite tiles are very durable and practical, making them suitable for all environments, especially public or commercial.
Why should you choose granite tiles? Advantages of natural stone tiles
Granite is considered one of the most popular stones in the world, due to its beauty and durability. This natural stone was formed many years ago as a result of volcanic activity, which involved molten magma coming into contact with water, where it cooled at a very fast rate. Granite is available in a variety of colors, textures and patterns. Although granite comes in all shapes and sizes, stone tiles are by far the most common form chosen for use as flooring or surface cladding on walls. This type of material is strong enough to maintain its original appearance throughout its lifetime. It can be said that using this type of stone is an investment that will last for years! Given that granite is extremely dense (which means less porosity than most other stones), it is more resistant to stains, scratches, mechanical damage and heat.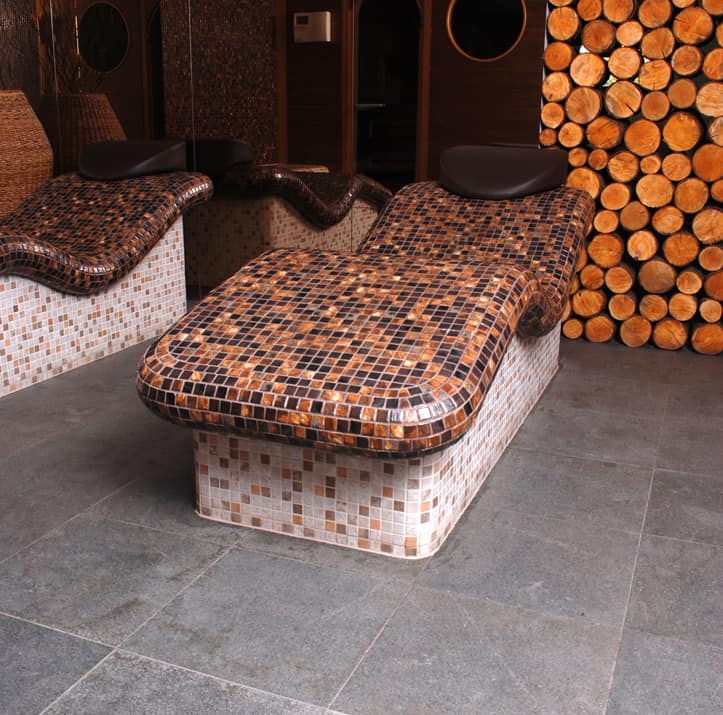 Advantages of granite tiles:
-Granite is not sensitive to heat and cold and is therefore more durable than most natural stones; granite tiles will endure both high and low temperatures
-Durability. Granite is a hard stone, resistant to high temperatures, scratches and mechanical damage
-Variety of colors, textures and patterns; granite's color varieties give the possibility to create effects such as stripes, squares, different shades, etc.; Granite tiles are endless possibilities
-Maintains its original appearance for many years with little or no care (no dyes or treatments); resistant to temperature changes; hydrophobic properties due to the presence of quartz crystals on the surface;
-Granite is not particularly susceptible to moisture damage;
-Granite can take any shape and cut (tile, counter, slab);
-Slip-resistant properties due to the rough surface.
Granite tiles for flooring – natural stone floor tiles
One of the biggest advantages of using granite as a flooring material is that it gives an attractive and elegant look to your home making it look regal and luxurious. Granite is such a stone that can add grandeur to a home when used for flooring material. In addition, the beauty of granite lies in its range of colors that can be chosen according to preference.
Granite tile flooring not only gives an elegant and attractive look to your home, but also offers many benefits that other materials cannot offer. For example, tile floors are stain resistant by nature because they do not absorb any liquids or moisture easily. And if there is still any trace left due to accidental spills of water or other liquids on granite then you can easily clean the stone tiles with just a damp cloth, without causing any damage or change in color and luster.
Granite tiles are the best choice if you want a durable and sustainable flooring material. Unlike other materials, such as marble or synthetic stone, granite does not get damaged very easily and lasts for a long time without the need for replacement. Granite tile floors can add beauty to interiors on a limited budget along with providing excellent resistance to wear and tear in everyday household activities. You only need to clean them regularly and polish them once every few months to maintain their pristine appearance. Granite is also an excellent raw material for stairs or kitchen countertops so that you can create a cohesive and harmonious interior. Stone tiles in the same shade as the kitchen countertop will create a striking composition that will impress with its character.