Basil, parsley or chives on the windowsill are the perfect way to have a home garden at your fingertips. They seduce with their fragrance, and their vivid color decorates the kitchen interior even in winter. It's also a way to bring nature under the roof of your home and a step towards taking care of your health. Check out why else you should grow herbs in a pot.
What herbs are suitable for potting?
The option of ready-made products from the supermarket is a surefire solution, but nothing can replace hand-sown plants that you take care of and enjoy. It's a pleasant process of observation when you see them getting bigger every day. The vast majority of herbs are suitable for potting, and among them stand out:
annual her bs – basil, savory, cilantro, chervil, marjoram, borage and dill; you sow them all in the spring;
biennial her bs – parsley and cumin; you plant the first one in spring, the second herb can also be sown in autumn,
Perennial her bs – lemon balm, mint, oregano, thyme, rosemary, lovage, sage, chamomile, sorrel, chives, tarragon; you plant in spring, but marjoram and rosemary die out in winter.
Annual herbs are spring sowings that develop their leaves and then die off. Biennial perennials have leaves that you use for 2 seasons before they bloom or bear fruit. Perennial herbs are characterized by the fact that their root grows new leaves every spring.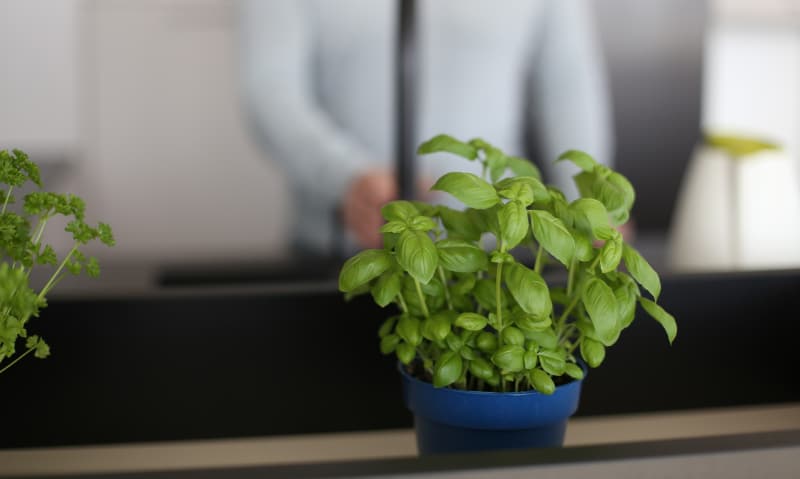 How to plant and care for herbs in a pot?
Always choose thesize of pots and the substrate according to the requirements of the plant. Savory or thyme have such root systems that do not need deep pots, so they can be planted in flat and wide pots. Some herbs like basil and thyme do not need much space, so for them, pots with a diameter of 8-10 cm will suffice. For lemon balm, which grows, you will need containers with a diameter of 2 times larger. What types of pots to use for herbs?
Ceramic pots. They ensure good air circulation and proper evaporation of water. The substrate in these pots gets dry quickly, but remains warm. Plant sage, thyme or marjoram in them.
Clay pots. Prevents herbs from overflowing, because clay is a natural raw material that perfectly absorbs water and evaporates it to the outside. It is suitable for any plant.
Plastic containers. Ideal for species that like wet substrates like lemon balm or mint.
They will work well in compositions of several herbs.
The substrate, thanks to which the plants develop well, must be permeable, with a neutral pH. Herbs do not like acidic soils and feel good in an all-purpose soil, without additional chemicals and fertilizers. For watering, use distilled water at room temperature. Plants like sprinkling and moisture. Do not allow them to become overly dry, as they will not recover, even after considerable watering. Provide them with a place with plenty of sunlight.
Advantages of growing herbs in a pot
A perfect dish does not exist without the right bouquet of herbs. Planting herbs is not only a way to work with your hands, but above all to guarantee yourself a flavorful kitchen, full of healthy additives. Herbs contain a lot of oils, vitamins and micronutrients that support the taste of meals and human health. What are the benefits of your own cultivation? Thanks to it you have:
unlimited access to fresh herbs,
a natural decorative element of the kitchen,
the possibility of a healthy diet,
availability of organic, chemical-free plants,
assured cost savings,
an activity in which the whole family can be involved.
Your own herbs on the windowsill give you the opportunity to grow anywhere, even in an apartment in a block of apartments. Their intense color will enliven the kitchen space, and the aroma will give it a special atmosphere. With them you create a friendly, natural environment.